Support for your Dyson Supersonic™ hair dryer
Here you can find how-to videos, styling guides, your user manual and more.

Activate your guarantee
You can get support that's tailored to you, owner exclusives, and more when you register your machine.
Getting started
See our quick-start video to help you get started.
Styling guides
Watch our quick, step-by-step guides to achieving your ideal style.
Flyaway smoother for long hair

Learn how to use the Flyaway smoother from wet to dry on long hair.

Flyaway smoother for short hair

Learn how to use the Flyaway smoother from wet to dry on layered, short hair.

Flyaway smoother for mens short hair

Learn how to use the Flyaway smoother from wet to dry for short, mens hair.

Korean volumised style

Learn how to create a straight style with natural volume for men.

Textured with volume

See how to create a textured style for men.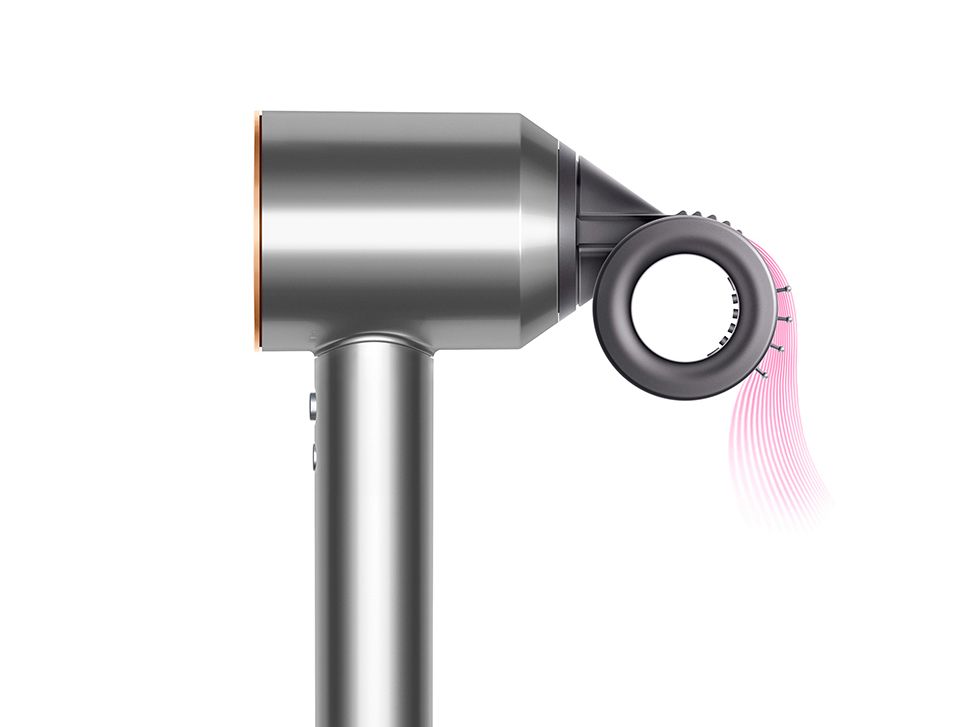 Tips for using your new Flyaway smoother
1. Rough-dry to 70% with the bare product or Gentle air attachment, combing through any tangles.
2. Use the Flyaway smoother in Smoothing mode to dry, align and smooth the hair.
3. Finish with the Flyaway smoother in Flyaway mode to hide flyaways behind longer hairs.
Flyaway mode has been engineered for use on dry hair as a finishing tool.
Styling attachments
Magnetic styling attachments for easy fitting and 360° rotation.
Flyaway smoother

Smooth and hide flyaways using the Coanda effect.

Styling concentrator

The wide, thin design of the Styling concentrator creates a focused, high-velocity blade of air, so you can style one section of hair at a time without disturbing the rest.

Gentle air attachment

Engineered to be kinder to fine hair and sensitive scalps, the new Gentle air attachment diffuses the air, creating a gentle, cooler airflow – while still drying hair fast.

Smoothing nozzle

Dries hair with smooth, controlled airflow, helping to create a smooth, natural finish.
Key controls
3 precise speed settings
3 precise speed settings

High – for fast drying and styling
Medium – for regular drying
Low – for diffusing

4 precise heat settings

100°C fast drying and styling
80°C regular drying
60°C cooler drying and diffusing
28°C constant cold

Cold shot

28°C cold shot, to set your hair after styling
Looking after your hair dryer
You can maintain powerful airflow, and keep your hair dryer performing at its best, by cleaning the filter regularly. We recommend cleaning once a month, or when the three white LEDs flash continuously.
How to clean your filter
Unplug your machine from the mains electricity supply and allow to cool down before cleaning your filter.
Step 1

Hold the handle of your machine firmly and gently rotate the filter cage anti-clockwise.

Step 2

Pull down and away from the machine. Use a lint-free cloth or soft brush to remove any hair product residue or debris from both the filter cage and the filter mesh.

Step 3

Do not use water to clean the filter mesh, and try not to apply too much pressure when cleaning.

Step 4

Move the filter cage back into position until correctly aligned, and rotate clockwise to lock before use.

"Watch our styling guides to enhance your technique, and learn new tips, tricks and styles on YouTube."

Visit our YouTube channel

"See new looks and trends from around the world, and share your style on Instagram with #DysonHair."

Follow @DysonHair
Dyson Supersonic™ hair dryer attachments and accessories

Magnetic attachments, storage and styling accessories for your Dyson Supersonic™ hair dryer

Explore the Dyson hair care collection

Explore Dyson hair care – including the Dyson Airwrap™ styler and Dyson Corrale™ hair straightener.
Frequently asked questions
To maintain optimum performance, your Dyson Supersonic™ hair dryer needs regular care and maintenance. We recommend cleaning the filter once a month, or when the three white LEDs flash continuously. Simply wipe away any hair product, dust or lint from the outer filter cage and inner filter mesh using a lint-free cloth or soft brush.
Yes, the new and re-engineered attachments are fully compatible with older generations of Dyson Supersonic™ hair dryers.
The flyaway smoother is a tool for finishing straighter styles. It should be used only on dry and straight, or straightened hair.
Hold the attachment at the top of your head until your hair is attracted to it. Then slowly run it along the length of your hair without pressing down on it.
Rotate attachment 45 degrees and slowly run it down the back of your head. Use the cool edges to attach, rotate or remove the Flyaway smoother.
We recommend starting with lowest heat setting (28°C cold setting) with high speed setting. Adjust the temperature if need be: lower temperatures for finer hair, and higher heat for thicker hair types.
Yes, you can. If you don't want flicks, avoid running the attachment over the ends of your hair, or go over the ends on a cold setting.
The attachment can get hot if you've been using it for a while. We recommend holding the cool edges when twisting or removing it.
In salon environments, filters can clog more quickly with hair product residue, so it's best to purchase a Dyson Supersonic™ professional hair dryer, which has a filter that's specially designed to meet the demands of a busy salon. The warranty on the consumer model doesn't cover use in commercial environments, or if it's used for more than two hours a day. If you're a professional stylist, we offer exclusive pricing on the Dyson Supersonic™ professional hair dryer. For more information, email dysonshop@dancom.com.my.
The voltage is 220–240V in the Indonesia.
Your hair dryer has been precisely engineered for fast drying and styling at the voltage of the country in which it was purchased. This allows it to run at optimum performance. As voltage varies from country to country, please follow the guidance on usage in the guarantee section of your user manual.